You Can Build Great Sound!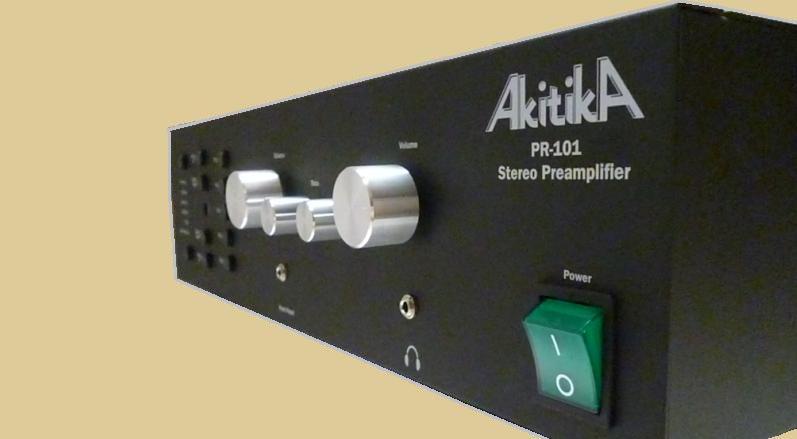 PR-101 Preamplifier Kit (click on the picture for more information)
Buy the PR-101 Preamp kit for just $450 plus $26 shipping (48 states).
Or buy the PR-101NR kit (no remote control, and no motor pots
for volume and balance) for just $373 plus $26 shipping (48 states)

GT-101 Power Amplifier Kit (click on the picture for more information)
Now comes standard with Gold Plated Input Jacks!
The GT-101 features the parts quality found in high-end equipment,
yet the kit costs just $299+$26 shipping (48 states)
You can buy it assembled for $473+$26 shipping (48 states).
You Might Be Surprised by Who Buys Akitika Kits
At 50 Watts per channel and $299, the GT-101 power amp kit costs less than the interconnects on many high end systems. Still, we find that many owners of $50,000+ systems buy our kits for their second system. Why? To quote one customer, "I put your amp up against my $10,000 monoblocks…it wasn't quite as good in some respects…but it was amazing how close it came. BTW, I had a blast putting the kit together!"
GT-101 customers report great results with bi-amped Martin Logan speakers, Magneplanars, and all kinds of speakers that cost many times the price of a GT-101.
The PR-101 preamp has also been favorably received by many audiophiles with very expensive systems. This is all the more amazing when you consider that this preamp kit comes with a remote control, and still costs only $450.
Our Satisfaction Guarantee
Buy the kit
Build the kit
Listen to and enjoy the kit
If within 30 days of receiving the kit you aren't satisfied, return the kit.
So long as your kit is correctly assembled, we'll refund the price you paid, you just pay return shipping.
Why Build a Kit?
It's fun, relaxing, and educational. Completing a kit provides you with a great feeling of accomplishment, and Akitika makes complete kits that makes it easy to build great sound. The kits contain everything you need to build great looking, great sounding equipment. They have acclaimed assembly manuals with clear directions that produce first time success for 97% of the builders. Quick email support makes the other 3% successful, too. We make proven designs backed by knowledgeable support.
About AkitikA
You may be familiar with Akitika's Updatemydynaco kits that make the Stereo 120 and PAT-4 better than new. Those are certainly great kits, but you need an old Dynaco to get the ball rolling. What if you want to build a new kit, from the ground up? That's what you'll find at this web site.
Akitika is a pallindrome on "A kit". We pronouce it Ah-kuh-TEE-kuh.
A Bit of Kit History
Lots of people used to build electronic kits. Heathkit, Eico, and Dynaco let anyone assemble great stuff and save a lot of money. On top of that, building the kits was relaxing, educational, and rewarding. We're here to say that the good times are back! Akitika has designed high performance audio kits. With our great designs, the carefully selected parts, and your labor, you get great sound and a great value.
About the Kits
Component Quality
The electronics are built on high quality 2-layer FR-4 PC Boards. Critical signal path capacitors have high linearity NPO or poly-film dielectrics. Metal film resistors, a toroidal transformer, and an elegant basic black custom chassis are the great ingredients that produce remarkable results.
About Assembly
Kit construction has four steps:
Downloading and printing the latest version of the assembly manual
Stuffing and soldering the new PC boards.
Wiring the Chassis
Mounting the new PC boards, and completing final assembly.
The kit uses all through-hole components. The circuit boards have been specially designed with generous spacing between all the soldered points, making assembly easy.Check out our YouTube video (not yet available), where we summarize the assembly process.
Submit a Question