Headphone Amp for the PR-101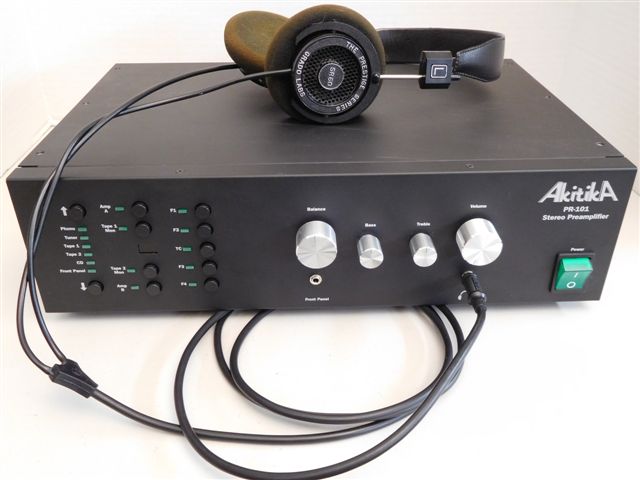 The Headphone Amp fits under the tone/volume PCB, leaving the option slots free for more new projects! It can be customized for modern (low impedance, typically 18-32 Ohms) or old school (600 Ohms) head phones.
Order the Headphone Amp Kit
You can order the Headphone Amp kit now for just $49 plus $6 shipping (United States, email for a quote for outside of the United States). We have kits in stock for immediate delivery.
Specs
Distortion: all harmonics of 1 kHz more than 80 dB below 1 volt into 32 Ohms. 1 Volt corresponds to more than 100 dB SPL into most headphones.

2rd harmonic about 90 dB below 1 volt
3nd harmonic about 82 dB below 1 volt
4th harmonic about >112 dB below 1 volt
5th harmonic about 110 dB below 1 volt
distortion decreases for lighter loads and lower output levels

Frequency Response: -3 dB at 2 Hz and 200 kHz (measured from the CD input to a 32 Ohm load on the headphone output)
A-weighted SNR - >100 dB
Maximum output-approximately 2.5 volts RMS into 32 Ohms
Output Impedance - less than 2.5 Ohm at 20 kHz, less than 25 milli-Ohms at 25 Hz.
Design Philosophy
Headphones sound best when driven from a low source impedance. However, you'd also like to protect the headphones from too much drive. The design of this Headphone amp does both. It presents a low output impedance to drive the headphones, and also limits too much voltage from appearing across the headphones, avoiding the possibility of damage.
More information can be found here, in an article by NwAvGuy.
Schematic
Please have a look at the schematic. Headphone Amp Schematics.
Assembly Manual
The Headphone Amp assembly manual.
Assembling the kit
This is an easy kit to build. Assembly should take between 2 and 4 hours, depending upon your experience level. Figure on an hour beyond that to install it into an already working PR-101.
---
User Reviews
Loren S on the results with two different sets of headphones
"Kudos Dan - Using my headphone amp with a Grado SR60 and a pair Bowers and Wilkins headphones and they both sound great. Thanks for putting this together for the PR-101. Love it!!!" Loren S
Lewis D says, "Better than the Z-DAC"
Dan,
Just completed the build and installation of the headphone amp. I am using Sony MDR-1A 'phones and the low impedance resistors to evaluate the sound from a Sonos ZP-80 feeding a Parasound Z-DAC. I am playing ARVO Baroque iRadio from Holland...a pristine audio stream. Plugging into the headphone amp of the Z-DAC gives me good sound, but the new HPA board is clearly sounding more spacious and less congested, with a wider stage and more "air". Bravo!
To paraphrase Papa John, "Better parts (and power supply regulation?)...better preamp!"
Thanks!
Best regards for a year of continued success,
Lewis
Webb M "can finally hear the music!"
Dan,
I've spent the last several nights enjoying the headphone amp for the PR-101 preamp. What a great little board! I can finally hear the music, not the equipment, just the music. For only the second time in my memory, with a good recording, I can close my eyes while listening and have the sensation of being at a live performance (my headphones are better than my speakers).
Most audio equipment designed for the home market is, in my judgment, over-priced, over-powered and under-built; the worst of it being painful to listen to. I wanted to write and once again simply say thanks for giving all of us a sane and affordable alternative! Best wishes for continued success with the entire product line!
Regards,
Webb M
P.S. What's next?
---